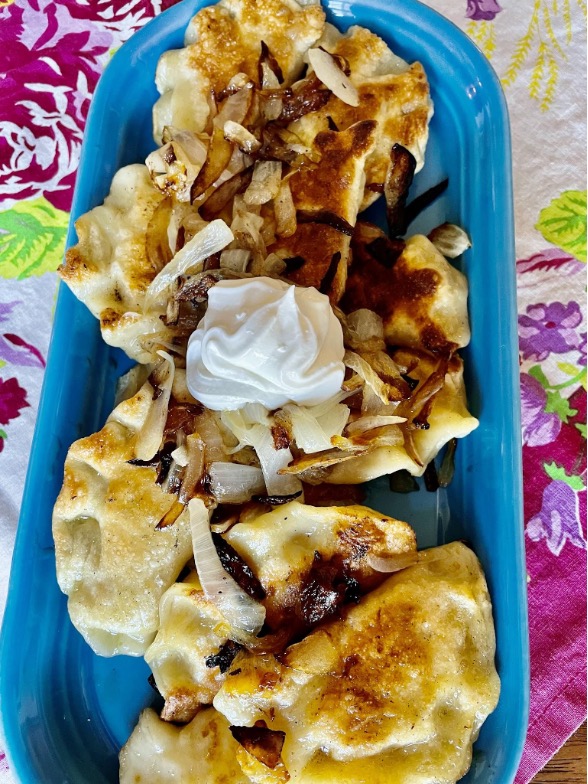 Recipe
Oh my! These homemade dumplings are so delicious and filled with caramelized onions, potatoes, ricotta (or farmer's) cheese, salt, and pepper. They are the ultimate comfort food!
My Ohio borned son-in-law truly enjoys a good pierogi and I look forward to making these for him. These pierogi may be made ahead of time and frozen after the boiling stage. Then, brown them before serving. 

Prep Time: 1 hour and 30 minutes
Cook Time: 30 minutes
Total Time: 2 hours
Servings: 36 pierogi
Large saute skillet

Large pasta pot

3 inch round cutter
Dough Ingredients
3 cups King Arhtur All-Purpose Flour, plus more for kneading

1 teaspoon salt

2 teaspoons olive oil

1 large egg at room temperature

¾ cup warm water
Filling Ingredients
1 large potato,cooked, peeled and cut into chunks

1 medium onion, peeled and diced

½ cup farmer's or ricotta cheese

Salt and freshly ground black pepper, taste
Garnish
2 medium onions, peeled and sliced

5 tablespoons unsalted butter, or more as needed - at room temperature

1 cup sour cream

Crisp bacon pieces, optional but oh so good!
Preparing the dough.

Combine the flour, and salt in a medium mixing bowl.

In a separate bowl, whisk together the oil, egg and water. Then, combine with the flour and salt.

Stir the mixture together with a wooden spoon or spatula. The dough should be soft, but not feel wet or sticky.

Place the dough ball onto a slightly floured surface.

Knead the dough by hand for about 5 minutes until it is smooth and elastic.

Cover the dough, then let rest at room temperature for at least 30 minutes.

Meanwhile, prepare the filling.

Heat the oil in a large saute pan over medium-high heat. Add the onions, sauteing until lightly browned. Remove pan from the heat.

In a medium bowl, mash the cooked potato and cheese. The mixture should be somewhat lumpy - not creamy smooth. Add the cooked onions, then season with salt and pepper to taste. Cover and set aside.

Shaping and cooking the pierogi.

Lightly flour your work surface, then roll the dough to approximately ⅛" thick.

Using a 3" round cutter, cut the dough into circles.

Place a teaspoon of filling into the center of each circle. Wet the edges of the dough with room temperature water.

Fold the dough over the filling to make a half circle. Crimp the edges with your fingers or the tines of a fork so they are well-sealed.

When ready to cook, bring a large pot of salted water to a boil. Add the pierogi. Once the pierogi float to the surface, continue cooking an additional 5 minutes. Remove the pierogi from the water with a slotted spoon and set aside on a large platter. The pierogi can be served as is or browned in butter. 

Caramelizing the onions for garnish.

Melt 2 tablespoons of butter over medium heat in a large saute pan. Cook until the onions are soft and lightly caramelized. Remove the onions from the pan.

Add an additional 3 tablespoons of butter and turn the heat to medium-high heat. Once the butter is melted, add the cooked pierogi in small batches so as not to crowd the pan.

Brown the pierogi until light browned on one side, then turn each pierogi to brown them on the other side. Add more butter as needed.

Transfer the browned pierogi to a warm platter, top with the caramelized onions and serve with sour cream and bacon pieces.
ENJOY! BLESSINGS AND BEE HAPPY! 💗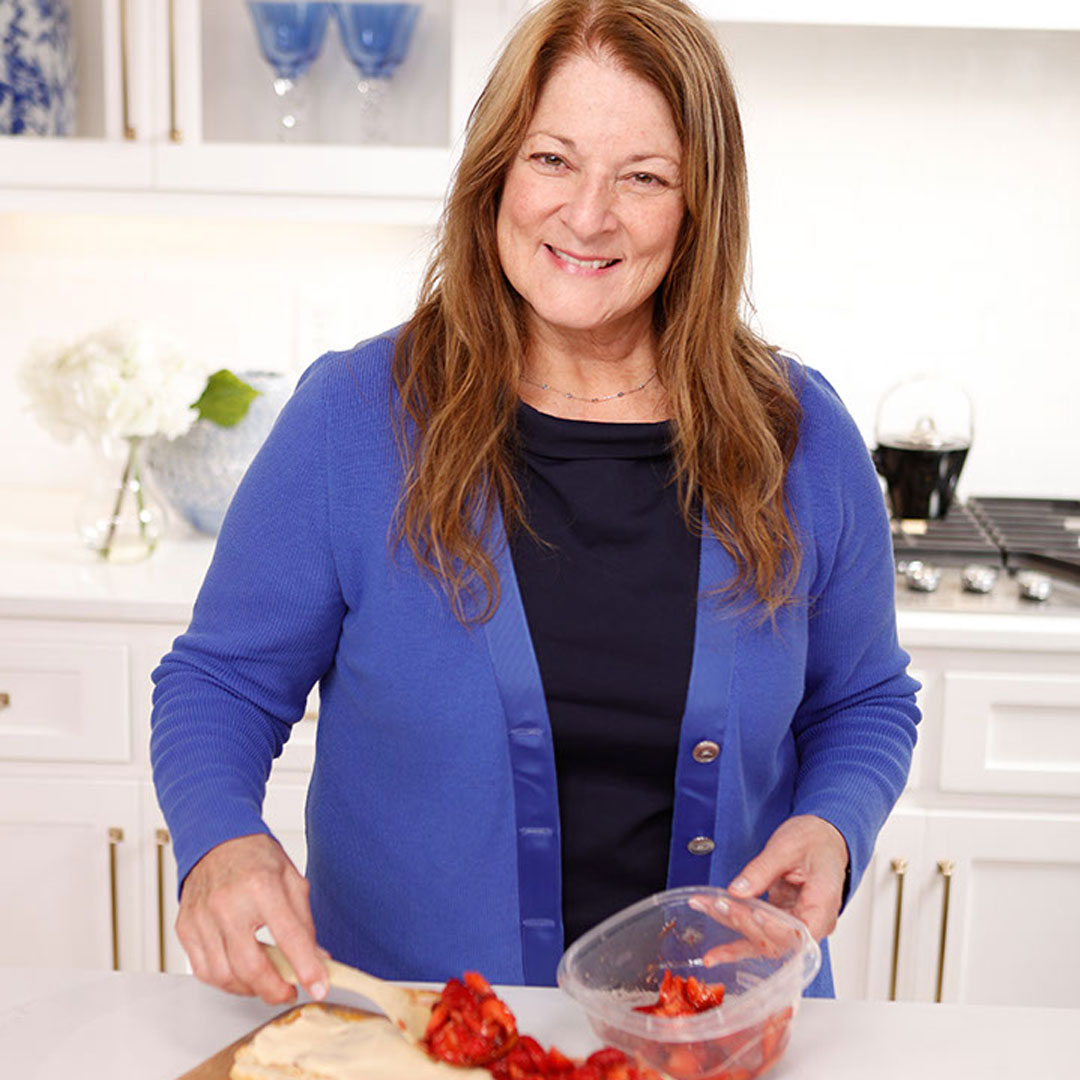 Miss Carroll's Kitchen is named after Clara Carroll, a former Home Economics teacher at Paul's high school and a lifelong friend. Carroll, now a retired professor of Home Economics from Harding University, brings unique recipes and ideas to make your seasons and home great. Her wealth of knowledge in Home Economics is sure to impress and inspire all who try her delicious creations.