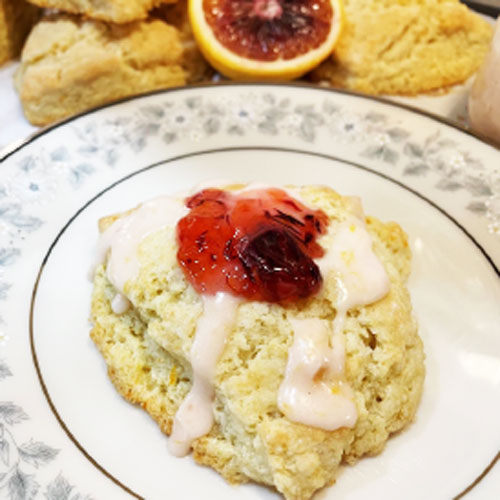 Recipe
Oh my! The Blood Oranges elevate these scones to an almost heavenly level! And the Blood Orange marmalade is divine! The color is beautiful due to the crimson Blood Orange peel and blood-colored flesh. The Blood Orange flavor is unique with raspberry notes. Serve with the maple-Blood Orange glaze and Blood Orange marmalade. 
Your Spring brunch just got better! If you have any leftovers, they warm up well gently wrapped in foil in the oven or a toaster oven.

Prep Time: 25 minutes
Cook Time: 13-15 minutes
Total Time: 40 minutes
Servings: 12 scones
I used my DoughMakers cookie sheet lined with parchment paper.

Pastry blender

Zester

King Arthur pastry rolling mat
2 cups King Arthur all-purpose flour

1 ½ teaspoons baking powder

½ teaspoon baking soda

½ teaspoon fine sea salt

1 large egg

¾ sour cream (do not use low-fat)

½ cup pure cane granulated sugar

1 teaspoon zested (grated) Blood orange (be careful to avoid the white pith just under the orange zest)

12 Tablespoons of cold salted (or unsalted) butter

1 ¾ cups pure cane powdered sugar

1 teaspoon fresh Blood Orange zest

3 tablespoons real butter, melted

3 tablespoons of fresh Blood Orange juice (about 2 oranges)

1 teaspoon of pure vanilla extract

½ teaspoon pure maple syrup
Preheat oven to 400 degrees Fahrenheit.

Whisk together the flour, baking powder, baking soda, and salt in a large bowl. Set aside.

In a small bowl, lightly whisk the egg and add sour cream. Set aside.

In a separate bowl, place the sugar and blood orange zest. Using the backside of a wooden spoon, press the zest into the sugar and work until combined. 

Stir the sugar mixture into the flour mixture.

Add the cold butter by tablespoon and blend with a pastry blender until the mixture resembles coarse crumbs. Stir in the egg and sour cream mixture until a dough forms a ball. Toward the end, I use my fingers to blend it into a ball.

Divide the dough into halves. Place one dough portion on a lightly floured pastry sheet and press to a 6-inch round. Cut into 6 wedges using a knife or bench scraper lightly floured. Repeat with the second portion.

Place wedges on a parchment-lined baking sheet and refrigerate for 20 minutes. This will solidify the butter and keep the scones from spreading out while baking.

Remove scones from the refrigerator and bake until golden, 13-15 minutes. Cool for 5 minutes then transfer to a wire rack.

Meanwhile, make the maple-orange glaze.

In a medium bowl, stir together the pure cane powdered sugar, and Blood Orange zest. Stir in the melted butter, fresh Blood Orange juice, pure vanilla extract, and pure maple syrup. Mix until smooth.

Spoon the glaze over the scones and serve with Blood Orange Marmalade (see recipe on Guess & Co. website).
ENJOY! BLESSINGS AND BEE HAPPY! 💗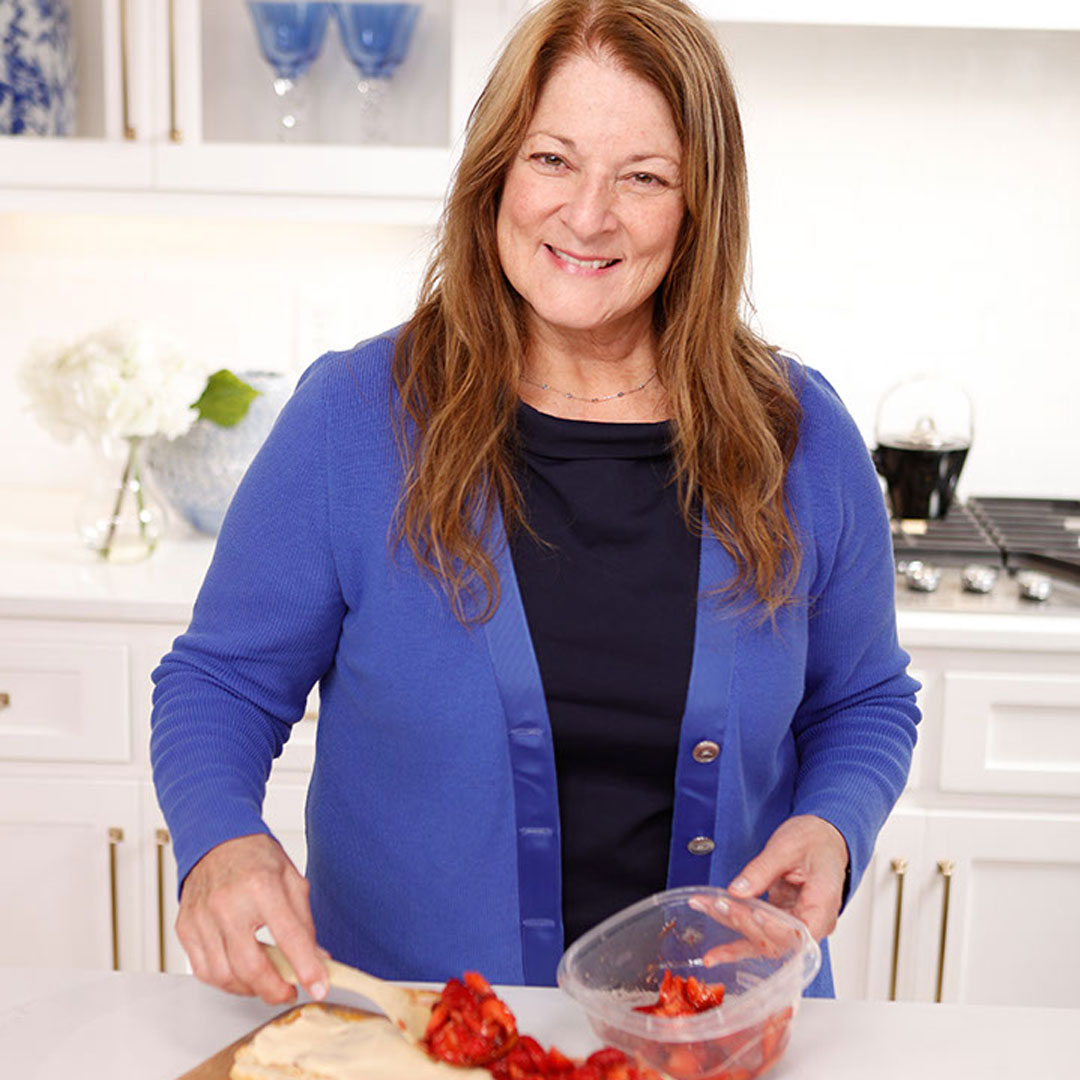 Miss Carroll's Kitchen is named after Clara Carroll, a former Home Economics teacher at Paul's high school and a lifelong friend. Carroll, now a retired professor of Home Economics from Harding University, brings unique recipes and ideas to make your seasons and home great. Her wealth of knowledge in Home Economics is sure to impress and inspire all who try her delicious creations.