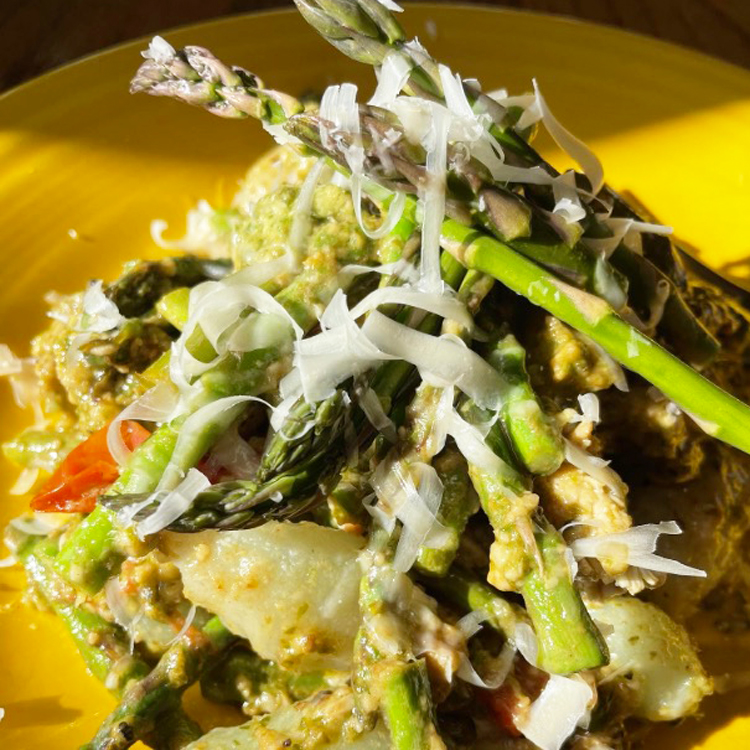 Prep Time: 15 minutes
Cook Time: 15 minutes
Total Time: 30 minutes
Yield: 4 servings
I used my 12-inch Lodge castiron skillet

8-quart saucepan
1 package of basil potato gnocchi (or you can use your favorite potato gnocchi)

1 bunch of fresh asparagus

1 cup cherry tomatoes, cut in half lengthwise

2 boneless chicken breasts (or cooked chicken leftover from another meal)

4 tablespoons of extra virgin olive oil

¾ teaspoon paprika

½ teaspoon garlic powder

½ teaspoon onion powder

½ teaspoon kosher salt

⅛ teaspoon ground black pepper

1 cup prepared basil pesto (When my garden basil is ready for harvest, I make jars and jars of fresh pesto and store them in the freezer. Then, I have pesto throughout the year to enjoy with many recipes!)

Boiling salted water

Parmigiano-Reggiano cheese
Rinse the fresh asparagus and snap them into 2-inch pieces. Set aside.

Rinse cherry tomatoes and cut them in half lengthwise. Set aside.

In a medium-sized bowl, whisk together 2 tablespoons of olive oil, paprika, garlic powder, onion powder, kosher salt, and pepper. Add chicken breasts and completely toss to cover the chicken with the seasoning mixture. Set aside.

In a skillet over medium heat, add 2 tablespoons of olive oil and the chicken breasts. Cook on each side until browned and cooked through. Remove chicken from the skillet and set aside. If you are using already cooked chicken, skip the cooking of the chicken.

In the same skillet, add the asparagus and saute until tender but not mushy. Add the tomatoes to slightly cook to tender.

Slice the chicken into strips or chop into pieces. Combine with the asparagus and tomatoes. Add ½ cup pesto and blend. Leave in the skillet and turn off the heat.

Heat salted water in a saucepan over high heat to boiling. Follow the package directions to cook gnocchi al dente. With a slotted spoon, remove the gnocchi as it rises to the surface. This indicates that the gnocchi is done. Add to the skillet with the vegetables and chicken.

Gently warm, as needed.

Add the remaining pesto and carefully blend.

Serve immediately with freshly grated Parmigiano-Reggiano cheese.
ENJOY! BLESSINGS AND BEE HAPPY! 💗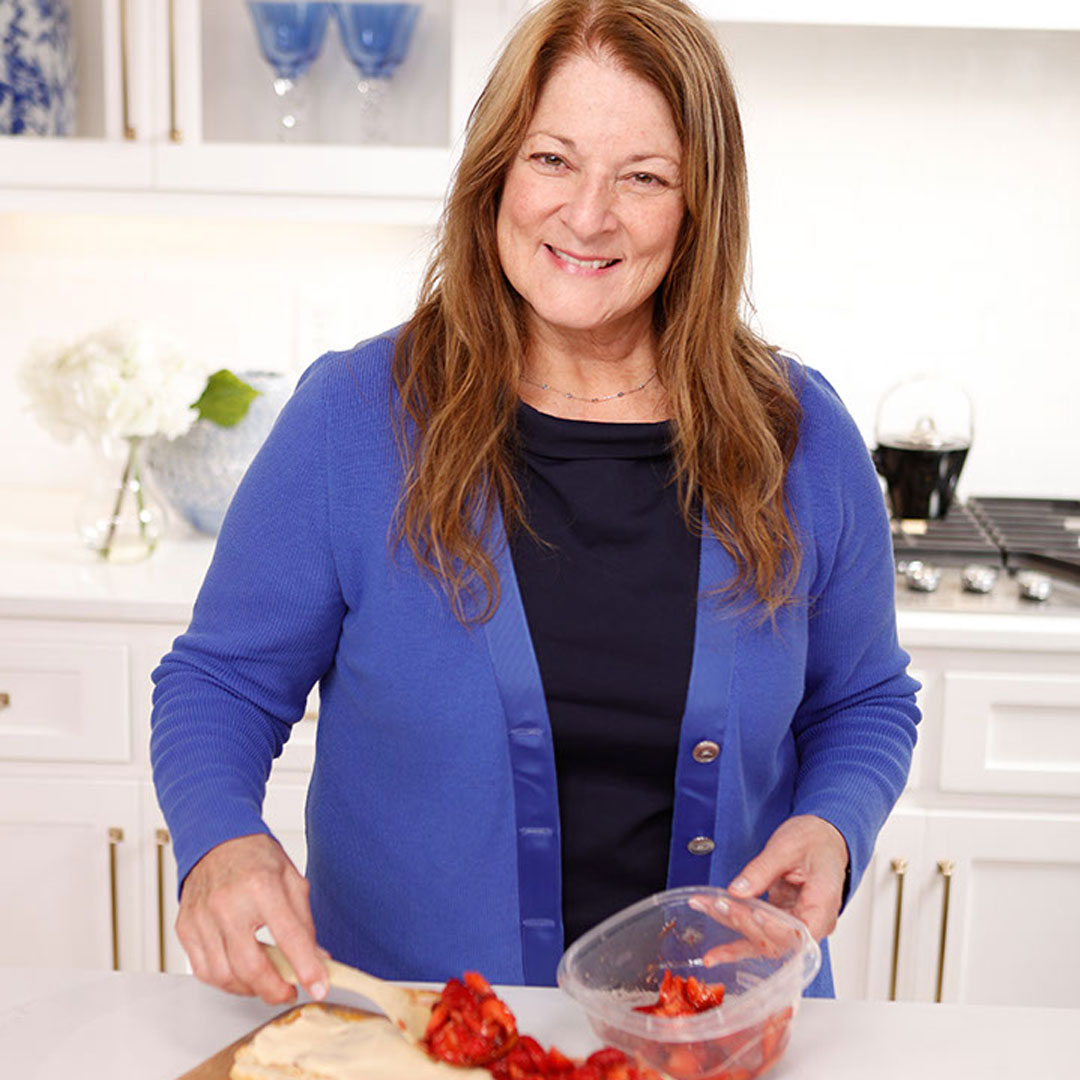 Miss Carroll's Kitchen is named after Clara Carroll, a former Home Economics teacher at Paul's high school and a lifelong friend. Carroll, now a retired professor of Home Economics from Harding University, brings unique recipes and ideas to make your seasons and home great. Her wealth of knowledge in Home Economics is sure to impress and inspire all who try her delicious creations.