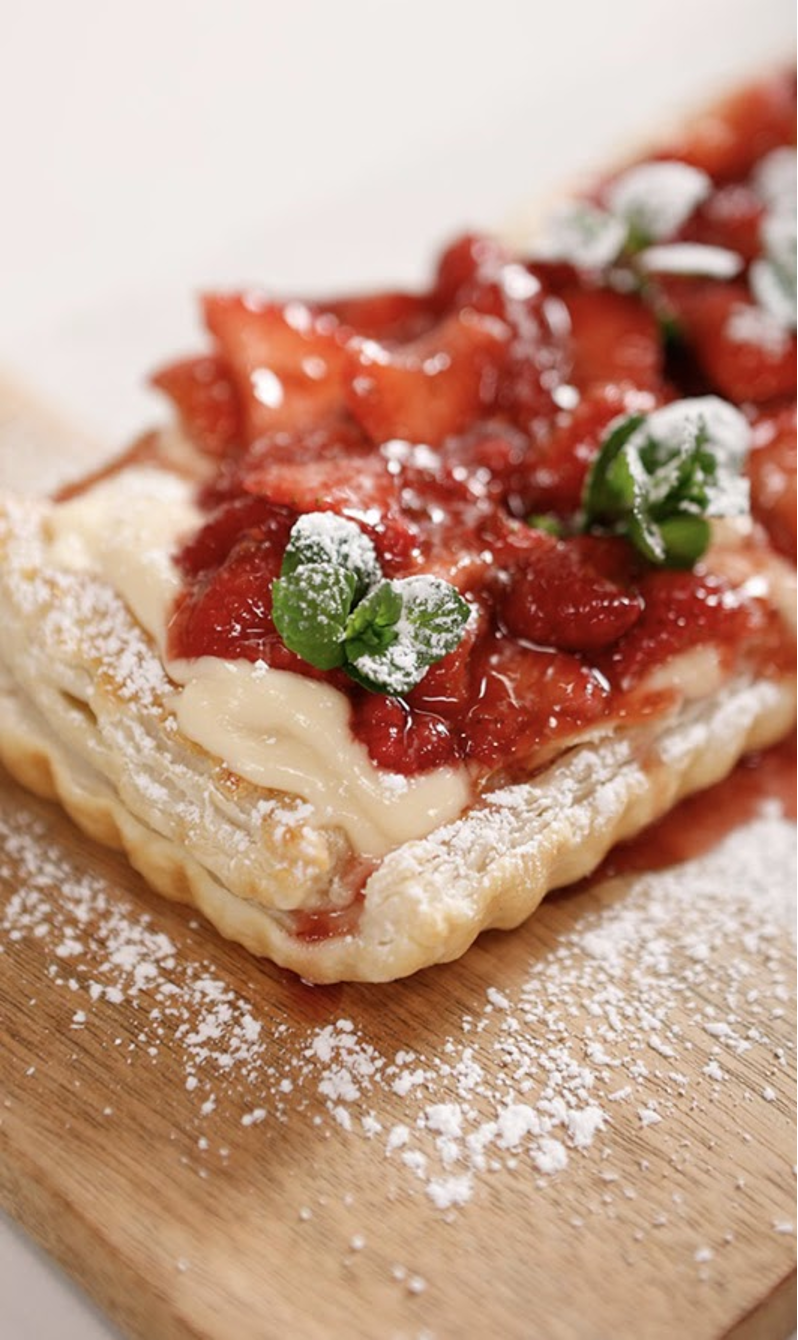 Recipe
The Berry Tart with Lemon Curd Mascarpone filling is both a pretty and delicious addition to any of your Holiday menus. The lemon curd mascarpone filling and the sweetened berries are the perfect combination for both the WOW factor and deliciousness! The best thing about this recipe is that it is so easy to make!

Prep Time: 1 hour
Cook Time: 12 minutes
Total Time: 1 hour and 12 minutes
Yield: 1 tart, 14 x 4.5 inch tart pan
Servings: 6 dessert servings
I use Wilton's extra-long (14 x 4.5 inches) non-stick tart pan with fluted edges because I like the presentation of the tart once it is finished

However, any rectangular, round, or square pan will work that is approximately 14 x 4.5 inches in size or an 8 x 8-inch square or 8-inch round pan will work
Tart Pastry
Frozen and thawed puff pastry (one store-bought package is enough)

1 egg

1 Tablespoon of heavy cream

2 Tablespoons of raw sugar, use more or less depending on your preference
Preheat oven to 400°F

On a lightly floured surface, roll out the puff pastry to fit your pan of choice

Butter the tart pan

Gently tuck the puff pastry into the pan of your choice. Be careful not to stretch the puff pastry

To make the egg wash, whisk the egg and heavy cream together

Using a pastry brush, gently brush the puff pastry with the egg wash

Sprinkle the pastry with the raw sugar

Bake for 10-12 minutes until golden brown and puffed

Cool completely
Lemon Curd Mascarpone Mixture
¾ cup whipping cream

1 8-ounce container of mascarpone cheese, at room temperature

NOTE: If you are not a fan of mascarpone cheese, cream cheese may be substituted with just as much deliciousness!

1 heaping tablespoon of powdered sugar

1 cup lemon curd, store-bought - I used the Bonne Maman brand
While the pastry is cooking, prepare the lemon curd mascarpone mixture

Whip the heavy cream on high with an electric mixer until soft peaks form

Add the softened mascarpone cheese and powdered sugar and beat to mix well

Fold in the lemon curd with a spatula

Set aside
Raspberry and Strawberry Topping
1-pint strawberries, hulled and sliced

1-pint raspberries

¼ cup strawberry preserves, I used homemade but store-bought works great, too!

Fresh mint leaves for garnish, I used mint from my herb garden

Powdered sugar for garnish
In a separate bowl, mix the raspberries and sliced strawberries

In a separate bowl, heat the strawberry preserves in the microwave until thin in consistency

Mix the strawberry preserves into the berries

Set aside
Assembling the Tart
Gently spoon the mascarpone mixture into the cooled tart crust

Top with the berry mixture

Garnish with the mint leaves

Sprinkle with powdered sugar using a powdered sugar shaker-duster or sifter
ENJOY! BLESSINGS AND BEE HAPPY! 💗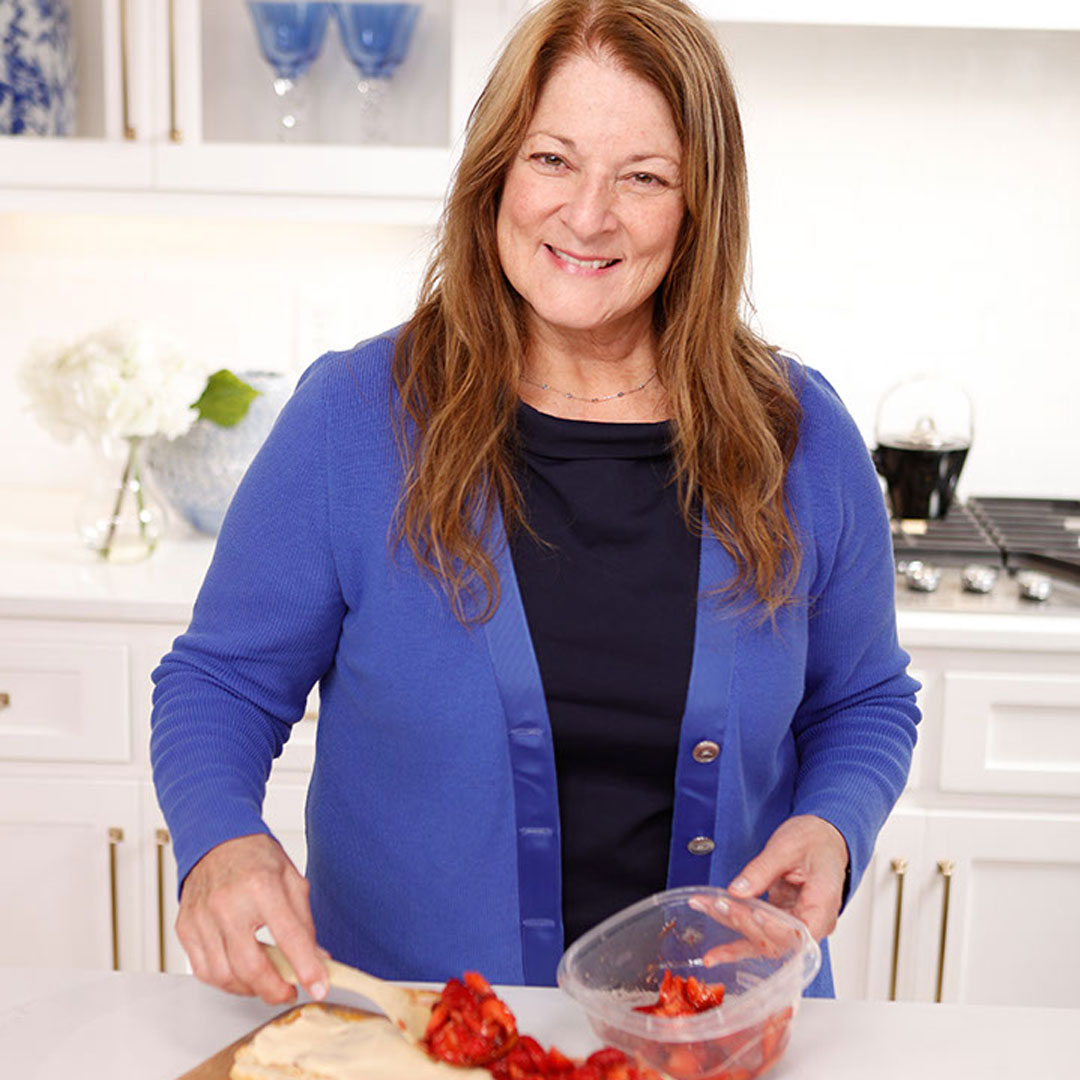 Miss Carroll's Kitchen is named after Clara Carroll, a former Home Economics teacher at Paul's high school and a lifelong friend. Carroll, now a retired professor of Home Economics from Harding University, brings unique recipes and ideas to make your seasons and home great. Her wealth of knowledge in Home Economics is sure to impress and inspire all who try her delicious creations.