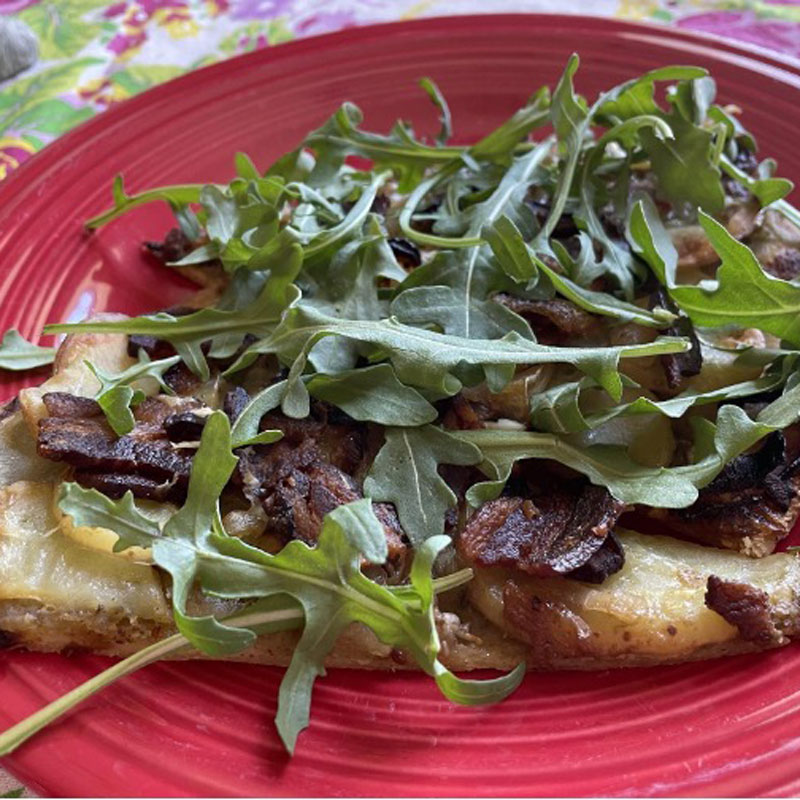 Recipe
Oh my, this is my favorite pizza full of flavor and textures! Homemade pizza night has been one of our long-standing Sunday night family favorites! We can create our pizzas with our favorite toppings and enjoy cooking together. My husband likes a more meaty pizza so he gets one of his own combinations of sausage, pepperoni, raw onions, green peppers, and black and green olives. The homemade pizza crusts are a snap to mix up and, then, you can go do something else for an hour or so while it rises. Towards the end of the rising cycle, the ingredients are prepared and the pizza cooks in a short amount of time.
The fresh mozzarella and freshly made basil pesto add the extra UMPH! to the pizza flavors. I can find fresh mozzarella at my local mega-grocery store in the delicatessen section. I make my own basil pesto from my summer basil harvest and store it in jars in my freezer. It is easy to thaw and use what I need. The bright green basil color is maintained by covering the basil with olive oil before freezing it. Or use store-bought pesto - it is great, too.

Prep Time: 30 minutes
Rising Time: 1-2 hours
Cook Time: 8-15 minutes
Total Time: 2 hours, 45 minutes
Yield: Two pizzas (recipe is for one cooked pizza and freezing one pizza dough round)
Servings: 8 pizza slices
Baking Pan and Preparation
I use my 16-inch round pizza stone. After the pizza dough is ready, heat the pizza stone in the oven while you prepare the pizza ingredients
1 1/2 cups warm water

1 teaspoon active dry yeast

4 cups King Arthur all-purpose flour

1 teaspoon fine sea salt

⅓ cup extra virgin olive oil (I get my olive oil straight from a Greek olive orchard, which is golden deliciousness!)

Extra virgin olive oil for drizzling

Fine sea salt for sprinkling

5 yellow potatoes, sliced paper thin

6 slices of thick-cut bacon, cut into 1-inch pieces (I use bacon from Coursey's Smoked Meats - located south of Harrison, AR and they will ship!)

3 yellow onions, sliced thinly

4-5 heaping tablespoons of freshly made basil pesto (or use purchased)

1 pound of fresh mozzarella cheese, sliced thin

4 ounces of goat cheese, crumbled

Grated Parmigiano-Reggiano cheese

Freshly ground black pepper

Fresh Arugula
Pizza Dough Directions
Preheat oven to 500°F

Sprinkle yeast over 1 ½ cups of warm water and stir just to combine. Let it set for a minute

Combine flour and salt in a mixing bowl and with an electric mixer on low, drizzle the olive oil into the mixture until slightly combined

Stir the yeast mixture and drizzle into the flour mixture until the dough forms a ball

Drizzle the bowl with olive oil and flip the dough until covered in oil. Cover with a kitchen towel and let rise in a warm place for 1-2 hours
Pizza Preparation
While the dough is rising, prepare the pizza ingredients.

Using a mandoline, slice 5 yellow potatoes into paper-thin slices. Soak in a bowl of water for about 30 minutes. Drain and pat dry with a kitchen towel

Over medium heat, brown 6 slices (cut into 1-inch pieces) of bacon. Remove bacon to a plate lined with paper towels. Set aside for now

Using a mandoline, slice 3 onions very thin. In the same skillet with the bacon grease (remove most of the bacon grease with paper towels), add 3 sliced onions. Saute over medium-low heat until soft - about 3 minutes. Stir as needed to move the onions around in the skillet. When slightly browned and tender, remove the onions from the skillet and set aside for now

Divide the pizza dough into two portions. Use one now and freeze the other one for later

Roll out the dough on a lightly floured surface to fit your pizza stone. Place the rolled-out dough onto the pizza stone and drizzle with enough olive oil to lightly cover the pizza dough

With a pastry brush, spread about 4-5 heaping tablespoons of basil pesto over the entire surface of the pizza dough

Lay the sliced mozzarella cheese over the pizza dough surface

Arrange the potato slices in a single layer over the entire pizza dough surface overlapping slightly

Layer the cooked onions over the top of the potato slices

Sprinkle the cooked bacon over the onions

Sprinkle the crumbled goat cheese over the bacon

Sprinkle freshly ground black pepper over the pizza

Bake for 8-11 minutes until the edges of the crust brown and the cheese is melted

Top with a generous helping of grated Parmigiano-Reggiano cheese and fresh arugula

Slice into 8 generous slices

Serve immediately. If there are any, leftovers are delicious!!
ENJOY! BLESSINGS AND BEE HAPPY! 💗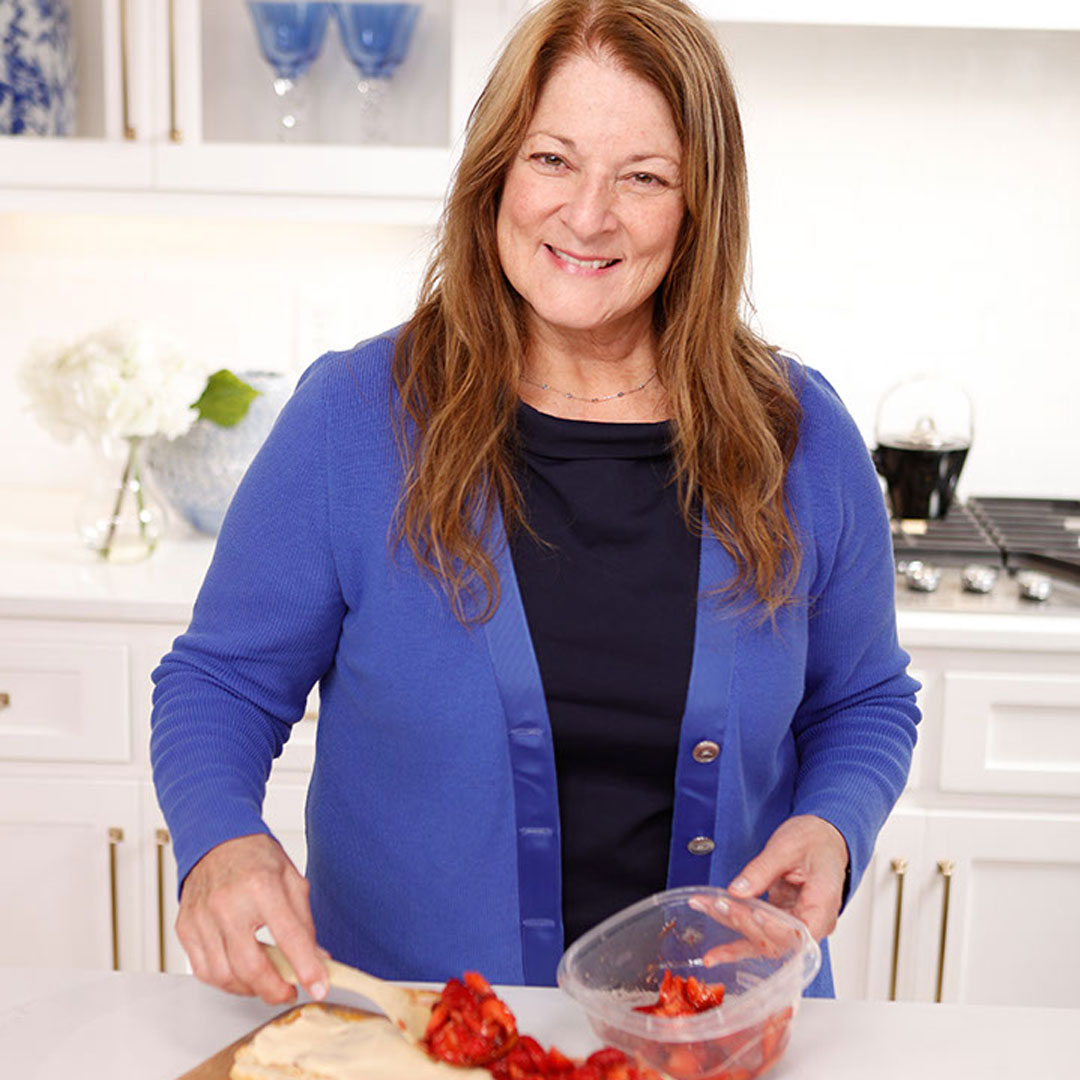 Miss Carroll's Kitchen is named after Clara Carroll, a former Home Economics teacher at Paul's high school and a lifelong friend. Carroll, now a retired professor of Home Economics from Harding University, brings unique recipes and ideas to make your seasons and home great. Her wealth of knowledge in Home Economics is sure to impress and inspire all who try her delicious creations.